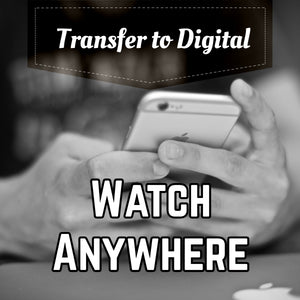 Simply purchase here and then mail your videotape(s) to us! For transfer orders of 10 or more, you can make special arrangements to drop your videos at our production office by emailing us at info@absolutevideo.com.  The minimum order is $200 to qualify for local dropoff/pickup, otherwise, the only other option is to ship/mail us your videotape(s) or DVD(s) at the address below.
Absolute Video Shipping Address
6749 S. Westnedge Avenue, STE K307
Portage, MI 49002
Video(s) will be transferred to .mp4 digital file on USB and returned to you via UPS ground to the address you provide.  It's only $25 per transfer for each item you provide to us with all of your video files combined to a single USB drive that you can play on your smart TV, computer, or share on your social media and/or cloud. Absolute Video is not responsible for any products lost in transit but we promise to do our very best in caring for your items.
We no longer accept local pickup or delivery at UPS Store locations.  Please ship us your items or if you order 10 or more transfers, email us at info@absolutevideo.com.