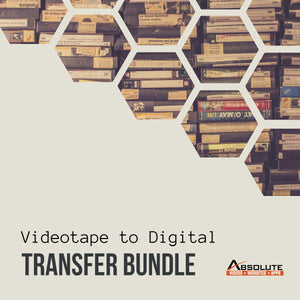 PURCHASE HERE FOR THE DISCOUNT AND WE WILL ARRANGE A LOCAL DROP OFF TIME WITH YOU AT OUR PRODUCTION OFFICE IN PORTAGE, MICHIGAN.  YOU ARE ALSO WELCOME TO SHIP US YOUR VIDEOTAPES AND WE WILL THEN, UPON COMPLETION, WE WILL SHIP THEM BACK TO YOU FOR FREE.
ABSOLUTE VIDEO SHIPPING ADDRESS
6749 S. Westnedge Avenue #K307
Portage, MI 49002
ABSOLUTE VIDEO PRODUCTION OFFICE
951 W. Milham Avenue
Portage, MI 49024
10 of your videotapes (or dvds) transferred to mp4 file. Simply purchase at a discount here and then either ship us your videotapes or contact us to arrange a local drop off date/time. You must purchase online here to receive the discounted price.  If you have less than 10 videotapes, you are welcome to purchase this discounted package to qualify for local dropoff. Thank you for choosing us!